Re-cladding and Leaky Buildings
We make recladding and leaky building shrink wrapping easy and affordable. See how we can save you time and money.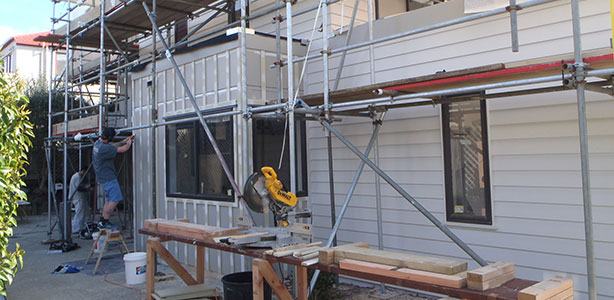 Why Shrinkwrapping?
Leaky homes have recently had an enormous impact on New Zealand home owners and property investors, in many cases leaving the home un-inhabitable. If you are repairing your leaky home, re-cladding or extending your current dwelling you'll be pleased to know that with shrink wrapping, your family or tennants could potentially live in the property while the work is being done. Shrink wrapping will also limit weather related delays.
How to arrange a shrink wrap?
Call Jarrod today on 027 654 6635 to discuss which option will be right for you and your building needs. Jarrod can tallk you through the processes and benefits of shrink wrapping and even supply you with an obligation-free quote.
Why Shrinkwrap Encapsulations?
With our extensive experience, quality products and efficient work style, we can assure your project will be wrapped to the highest standard so you can get on with your rennovations.
Need shrink wrapping? Talk to us!
If you're interested in shrink wrapping for leaking buildings, re-cladding or extensions, we'd love to hear from you. For an obligation free quote, simply give us a call on 027 654 6635 or email us at jarrod_radcliffe@hotmail.com and we will talk you though the process.